Downtown Shopping: On Saturdays, U.S. Highway 82 and the Crosbyton Downtown, blooms with color and activity. Local entrepreneurs have found a new paradigm for retail establishments in a small town. Local shops begin to open at 10:00 a.m. and provide an assortment of shopping destination within a very small space.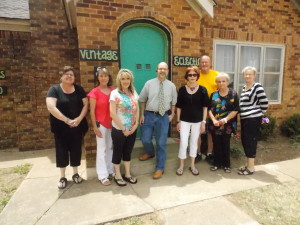 If you begin your day on the west end of town, you should stop at "Strikes My Fancy", located on the south side of the street in a re-claimed brick home. The shop is a nest of vintage finds with fashionable, new clothing in the back room. Owners, Jim & Connie Duke will welcome you and make your visit worth a little drive.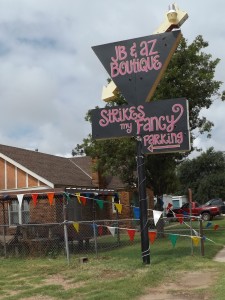 Continue driving east and find "Pocketful of Posies" for exactly that: posies and more. You will find Mary Lou Moreno at the shop which is full of flowers and whimsical accessories for your home or for gifts. After enjoying the sights and smells of a florist, travel on to Berkshire Street.
Berkshire is the home of "Clear Creek Posse" the brainchild of Gary and Kittie Hamersley. They have been collectors and re-purposers for years, and the shop is full of funky, unique, and amusing items. Need a 50's turquoise refrigerator, Clear Creek Posse is your place. You could spend a day in the shop with Kittie and her posse of family and friends, but you still have shopping left to do.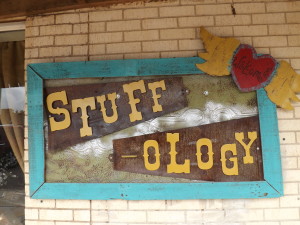 Go to 102 East Aspen to find Margot Hardin's "Stuffology", a high-end home décor and jewelry shop. Margot has re-purposed and up-scaled items for years. The shop's displays twist and snake throughout the building that is a reclaimed tractor dealership from the 1920's.  The path leads the shopper to discover a treasure here and there. It will become one of your favorite places to visit.
Berkshire Street intersects with Aspen. Turn east on Aspen to find "Handmade Rustic" an elegant and lovely environment built by Mick and Lupe Sudano. Mick and Lupe offer the shopper a respite from the day with hand poured, free trade coffees. Find an assortment of handmade items that include mesquite wood vessels and boxes and paintings from local artist. You are not through with Crosbyton shops yet.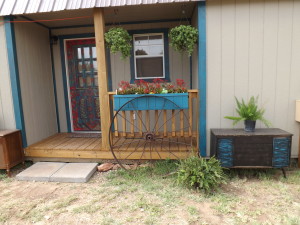 Turn back onto U.S. Highway 82 and watch the south side of the street for the "Rockin' 82". Wes and Paris Farley never miss a chance to check out rusty metal. If you have an itch for country Texas that you can make your own, you need to browse through both the inside and outside of the Rockin' 82. Paris has an eye that can find those rusty treasures. They are just waiting for you.